Solari is among the most ancient, powerful and rich realms of the Magic Dimension. Like many realms of the Magic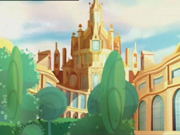 Dimension, Solari is ruled by monarchy, and Saoto is the King while his ex-wife, Lunimura is still the Queen. Their daughter, Mayu, is the princess and heir to the throne. The planet is considered to be one of the most trend-setting, fashionably conscious, and brightest! There is a sun and moon theme as their Queen is designed with such a theme. For the most part, Solari is seen as an extremely sunny place where it never rains. In the palace of Solaria, there is a hall with a planetarium called the Hall of the Universe, where all the Realms of the Magic Dimension are represented. This world is almost an exact mirror of the Moon Kingdom.
Locations
Edit
Royal Palace is where Mayu and her father Saoto lives along with many servants with different duties. Palace is huge horizontally and vertically. It contains sleeping guarters for visitors, royal family and possibly for some servants as well. Hall of Universe is palaces planetarium. Palace has huge hall, where Mayu's Princess Ball is often held. At some of upper floors Second Sun of Solari is held in guarded room. There is also tower, where royal doves. Royal Deeps is one of the Solari ocean regions.
Ad blocker interference detected!
Wikia is a free-to-use site that makes money from advertising. We have a modified experience for viewers using ad blockers

Wikia is not accessible if you've made further modifications. Remove the custom ad blocker rule(s) and the page will load as expected.